SUSTAINABLE GROWTH STRATEGIES CAPTURING THE CHINA BEAUTY OPPORTUNITY
Time: October 17, 2023 By BeautyMatter
BeautyMatter, OCTOBER 17, 2023
As the Chinese beauty market matures, it also becomes far more competitive. The market is not just growing—it is evolving, necessitating a transformation of the traditional TP/distributor model. For international brands to stay ahead of the curve, finding a true partner that provides a transparent view of their business and intelligence on consumer motivations, habits, and interests is critical.
Leveraging years of experience, S'Young International has pioneered a unique China Partner (CP) model grounded in a digital-driven open platform, a one-stop, omnichannel solution to empower overseas beauty brands to enter the market and grow sustainably. "Couple," a buzzword that gained enormous traction on Chinese social media in recent years, represents the underlying meaning to the CP model, signifying the unbreakable bond between partners (brands) and S'Young International.
Amidst rapid economic development, China has become the largest beauty market by consumer population. The prestige beauty segment was worth around $17 billion in 2022 and is expected to expand at a CAGR of about 10% by 2027, with the overall beauty market in China expected to reach $96 billion by 2027.
Not only does China have a massive consumer base, but it also boasts numerous shopping holidays all year round, providing significant sales opportunities for brands. However, not familiar with the local market, it's easy for niche international brands to get lost in the various Chinese shopping festivals, the main drivers of revenue in short spurts. As one of the approaches to tap into this cultural nuance, S'Young International has created its own Global Brand Festival to showcase its brand partners and share trends driving growth in an all-dimensional manner. Nearly a thousand attendees including Chinese influencers, distributors, and media are invited to the S'Young campus called S'Young City in Changsha, China, allowing brands to connect with new consumer groups and communicate directly with beauty key opinion leaders and industry partners.
"S'Young International believes that crafting a premium and unique brand asset is a priority for most global beauty brands. The Global Brand Festival is essentially an effective approach to elevate brand awareness, and we are glad to see that this event is well regarded by our international luxury brand partners," says Marshall Chen, co-founder and CEO of S'Young International. "As the pioneer of the 'CP'(China Partner) cooperation model, S'Young International will continue to empower brands in all dimensions within an omnichannel ecosystem and at any stage of the lifecycle."
Italian cosmetic brand Lord & Berry, and French skincare brands EviDenS de Beauté and Pier Augé, as well as Nordic beauty brand Lumene kicked off the inaugural Global Brand Festival in April. Building on the success, S'Young International hosted the second Global Brand Festival focused on the hair category and showcasing the CP Model.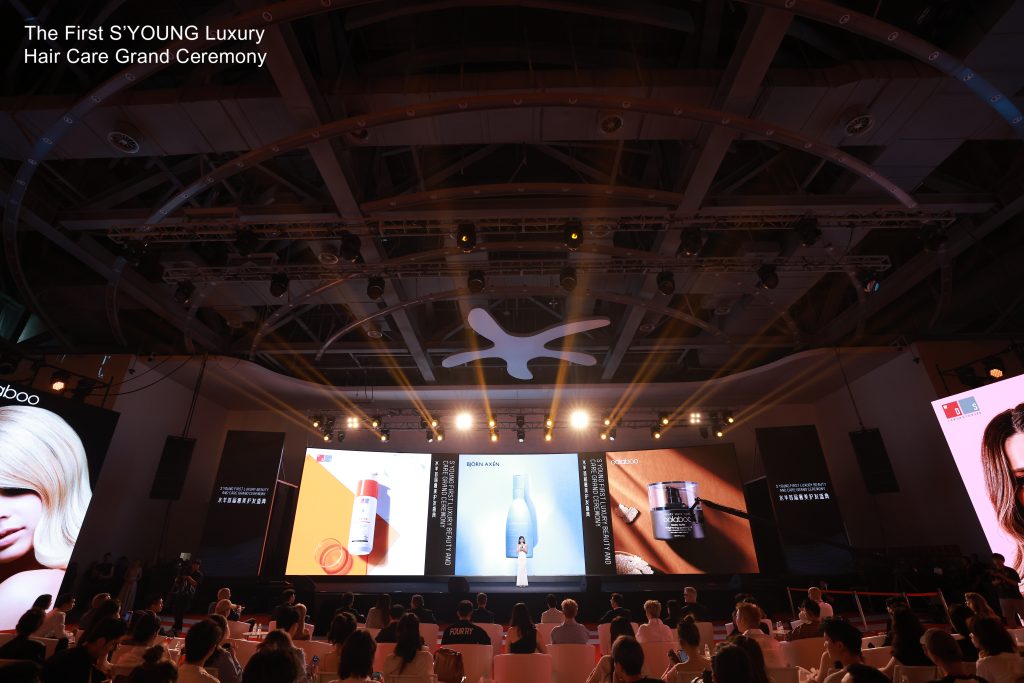 Brands and Trends Driving the Hair Category
This year, S'Young International introduced the inaugural Luxury Hair Care Grand Ceremony, featuring an industry summit showcasing three professional brands, their new product launches, and local strategies. Björn Axén from Sweden, DS Laboratories from the United States, and Oolaboo from the Netherlands shared immersive presentations and performances that brought their brands to life.
The summit highlighted consumer insights from recent research on scalp care and hair science. "Sensitive scalp type accounts for 41% among Chinese consumers, followed by oily (39%) and combination (30%), while male consumers ages 30 to 40 take up the majority of the oily type group," said Liu Wei, Chief Physician and Professor of Dermatology Physicians Branch of the Chinese Medical Doctor Association. "Consumers have increasingly diversified demand for personal care products, showing a keen interest in precise usage instructions and specific functionalities with a scientific basis." According to the research, the Chinese haircare market is expected to grow at a CAGR of 4.6%.
Yu Wenqi, Director of the Beauty Division at the Mass Consumer Business Center of Ocean Engine, a digital marketing platform from Douyin Group, (Douyin is the Chinese version of TikTok) also revealed the leading Douyin trend in the haircare category. "Looking at the landscape, hair coloring products and hair oils are rapidly emerging this year, with demand growing at more than 150% year-on-year."
She pointed out that in the hair oil category, products with an Average Transaction Value (ATV) below 50 Chinese Yuan ($6.90) used to dominate the mainstream consumer market. However, starting from Q4 last year, products priced between 50 to100 Yuan (6.90-$13.80) have been experiencing a noticeable upward trend and are poised to gradually capture a larger share of the low-price market.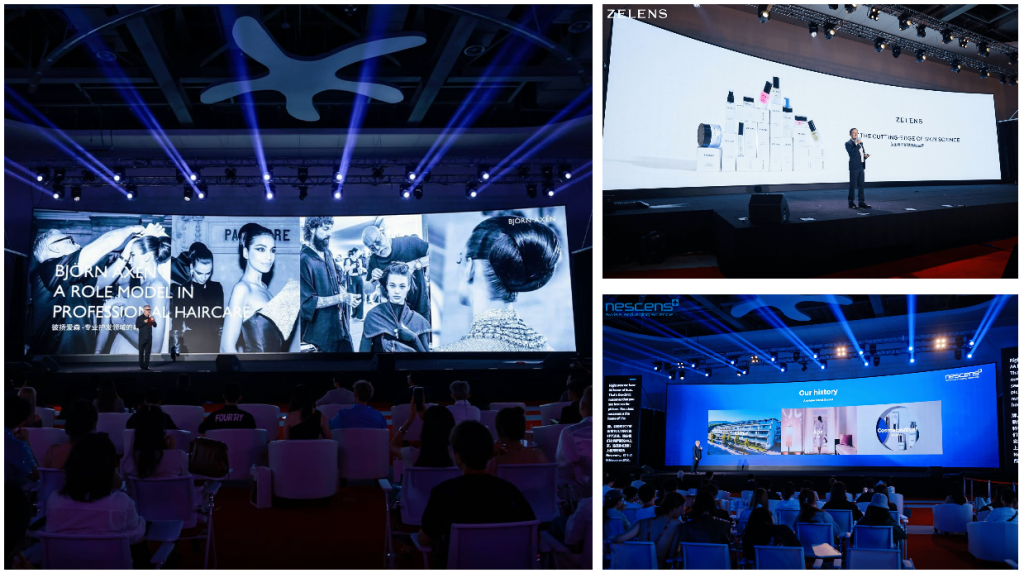 Paths to Success Leveraging the "China Partner" Model
Brand ceremonies by Zelens, a pioneering British skincare brand founded by Dr. Marko Lens, and Nescens, a luxurious Swiss anti-aging brand sharing founding principles and core brand philosophy, were among some of the highlights of the S'Young Global Brand Festival.
At the ceremony, Dr. Lens, a Harvard and Oxford-educated medical professional with nearly two decades of clinical experience, took the stage, revisiting the founding principles and core philosophy of the Zelens brand. He highlighted the core tenets of the Zelens brand: adhering to the highest R&D standards, globally sourced cutting-edge ingredients, scientifically based balanced formulas, and multinational laboratory-tested efficacy.
The collaborative efforts between Zelens and S'Young International began in November 2019, resulting in remarkable achievements. The brand's online visibility has surged by 70%, and the operations on major e-commerce platforms, including Tmall International, JD.com, and Douyin, have stabilized. Notably, their best-selling products, such as Age Comfort Foundation, saw an impressive 150% growth in market share, reaching over 800 million Chinese consumers. The Age Comfort Foundation has also soared to the top sellers of imported foundation sales charts on various platforms.
The event reinforced Zelens' dedication to providing scientifically advanced skincare solutions as it continues to elevate its global presence.
Lens commented, "We recognize S'Young International's mission and vision, and trust that they can help Zelens develop in different aspects in China. We are eager to extend our partnership, especially to R&D, an area I'm personally passionate about."
Cosmeceutical brand Nescens took the stage next. Nescens' CEO Guillaume Vanthier provided an insightful overview of Nescens' cutting-edge research in aging biology, sharing the results of their stem cell-based anti-aging technology. He also shared his view on the cooperation between Nescens and S'Young International, "We are excited to see many passionate young people at S'Young International. We have full confidence in placing Nescens, which I consider as one of my children, in the capable hands of S'Young International," he added, "I trust that S'Young International has the capability and drive to help Nescens achieve success in China."
As Nescens' China partner, S'Young International leverages its wealth of expertise and unique solutions to enable the brand to establish a stronghold in the Chinese market, bringing innovative anti-aging products to cater to the needs of local customers. Together, the pair will develop a comprehensive marketing strategy, helping Nescens unlock its potential as it is poised to enter a new growth phase in China.
Founded in 2018, S'Young International has successfully helped 50+ overseas brands enter the Chinese market through in-depth, win-win relationships that take a long-term view. S'Young International boasts an extensive portfolio encompassing five categories, including skincare, cosmetics, fragrance, beauty and wellness, and personal care. Only a genuine understanding of the nuances and trends in the market can inform a sustainable omnichannel strategy to capture the entirety of the market opportunity.