Switzerland's Anti-aging Pioneer Nescens is Set to Enter a New Phase of Growth in China
Time: September 12, 2023 By PRNewswire
CHANGSHA, China, Sept. 7, 2023 /PRNewswire/ — On September 7(th), Nescens, the Swiss leading anti-aging care specialist based in Switzerland, hosted its inaugural brand ceremony in Changsha, one of the up-and-coming metropolises that emerge as a new Tire-1 city in China. With the event theme centered around "Adding Life to Life", Nescens' tagline that encapsulates the brand's philosophy and mission to develop the best anti-aging solutions.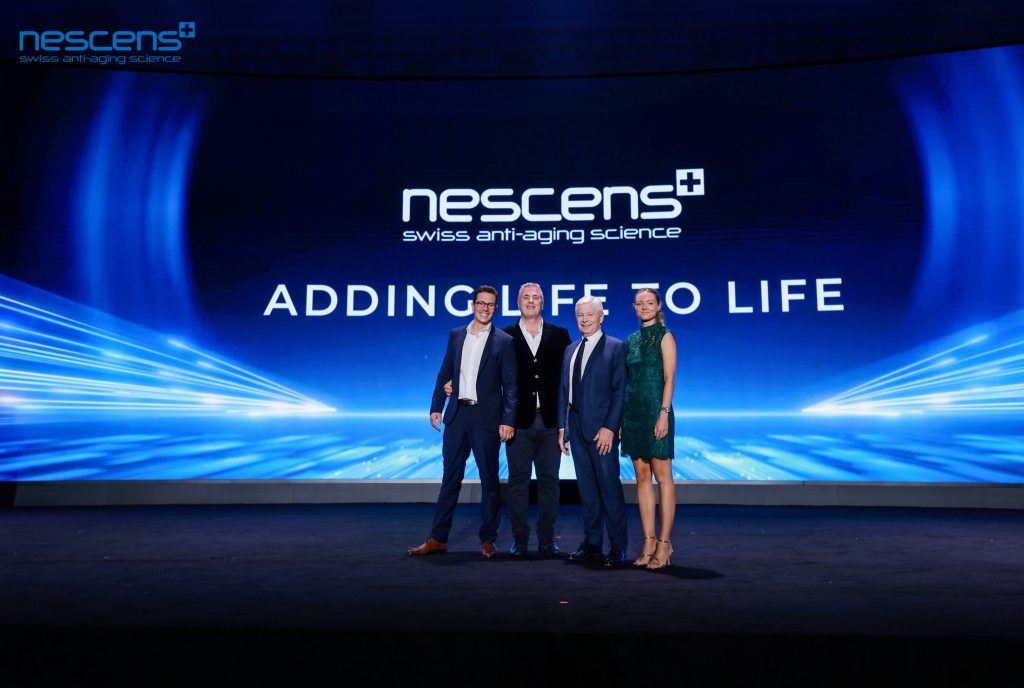 The venue for the brand ceremony – Changsha, renowned for its dynamic and innovative ethos, is hailed as the happiest city in central China. With a thriving entertainment industry and a burgeoning consumer demographic with an insatiable demand for the latest in fashion, wellness, leisure, and top-tier quality, Changsha provides an unprecedented opportunity for Nescens to establish a profound connection with celebrities, key opinion leaders (KOLs) and extensive beauty consumers.
The event commenced with a dance performance, followed by holographic projections that provided the audience with an immersive experience. Together with Professor Jacques Proust, the founder of Nescens,the attendees including KOLs, representatives of MCN agencies, and channel distributors were introduced to Nescens' ingenious innovation and approach to anti-aging that changes the way people can maintain and repair their skin.
The ceremony was also attended by Guillaume Vanthier, CEO of Nescens cosmeceuticals, who took center stage to showcase the company's accomplishments and innovations that redefine anti-aging technology, as well as its heritage that traces back to its roots within one of the largest Switzerland's listed healthcare and hospitality holding, Aevis Victoria. As a pioneering innovator in the Swiss anti-aging industry, the brand Nescens is involved in three areas: Clinic, SPA, and Cosmeceuticals. During the event, Guillaume Vanthier provided an insightful overview of Nescens' diverse expertise, highlighting their commitment to delivering the best solutions to preserve one's health, physical appearance, and quality of life. Moreover, Mr.Vanthier delved into Nescens' brand background, rooted in medicine and science, their dedication to providing service equivalent to luxury hotels, and the development plan of Nescens, illuminating the company's visionary aspirations and growth trajectory.
Professor Jacques Proust, a scientist who specializes in the biology of aging and anti-aging medicine, graced the event with a presentation that introduced the story behind the company's inception, its development, and his experiences as an anti-aging technology innovator to discover and pioneer industry-leading aesthetic and regenerative solutions that underpin the brand reputation and success around the globe.
In 2002, Professor Jacques Proust pioneered advanced anti-aging biotechnology in skincare and founded the Clinique Nescens, a destination for a better life. Offering premium services and cutting-edge treatments and therapies, the Clinique Nescens quickly became a top destination for preventive medicine thanks to medical check-ups, but also regenerative medicine, wellness cures, and skincare, attracting a distinguished clientele including worldwide celebrities, supermodels, and professional athletes. With the development of Nescens mirrors science, Professor Jacques Proust and his research team applied "stem cell activation" technology into skincare products, creating the Nescens Home Anti-Aging Cosmeceutical Skincare Series. Its gentle yet effective characteristics have gradually made Nescens well-known among consumers, expanding beyond the exclusive skincare circles of the wealthy.
Beyond its remarkable achievements in the Swiss anti-aging industry, Nescens also shines in the public eye due to its extensive medical and scientific expertise. Nescens is part of Aevis Victoria, a pioneering listed enterprise known for its focus on four main sectors: healthcare, lifestyle, infrastructure, and luxury hotels. The group owns a total of 21 hospitals, 60 medical centers, over 2,300 physicians, and 4,000 employees. With a remarkable cancer cure rate of up to 92%, it is recognized as one of the world's most famous private healthcare institutions.
As Nescens' China partner and co-organizer for this brand ceremony, S'Young International continues to leverage its wealth of expertise and unique solutions to enable the brand to establish a stronghold in the Chinese market while bringing innovative anti-aging products to cater to the needs of local customers. Together, the pair will develop a comprehensive marketing strategy, helping Nescens to unlock its new potential as it is poised to enter a new phase of growth in China.